Find solutions to common reasons you may not be able to access an organization or Team Room in Retrium.
Table of Contents
---
Trying to access Team Room via link
If you are not part of the organization and trying to access a private Team Room via a link, you will not be able to access the Team Room.
Have the person who invited you try inviting you via email instead of via link to ensure your access. This will also add you directly to the organization at the same time.
---
"You are disconnected from Retrium's servers!" error message
If you see the error "You are disconnected from Retrium's servers!" consistently, you may have WebSockets blocked. This issue could be the result of an ad blocker/cookie blocker, antivirus and firewall software, or proxy and VPN connections.
WebSockets allow for real-time, two-way communication between users and Retrium, making it possible for users to collaborate on a project in real-time.
We recommend trying to access Retrium again from a private/incognito window (or another browser). If you continue to experience the issue, please contact your IT team to have them ensure that any traffic to and from app.retrium.com is not blocked.
---
Access not yet granted
If you're already part of an organization and have requested access to a private Team Room, someone in the room will need to add you before you have access.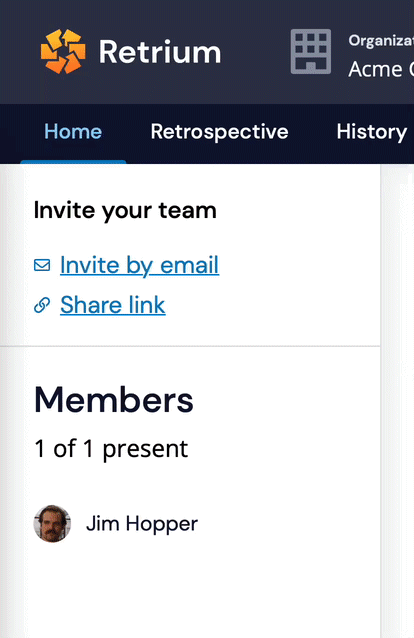 ---
Email not yet verified
If you haven't yet received your verification email, ensure the following:
There are no typos present in your email address
The email hasn't been mistakenly filtered to your junk/spam folder
---
Not yet added to organization or provisioned for Retrium
If you've verified your email address and only see the options: I am here to join a retrospective and I am here to start my own free trial, you're likely not yet part of the organization in Retrium yet, or you have not yet been provisioned for SSO (Business and Enterprise Editions).
In either case, reach out to your Org Admin or IT contact to ensure you're part of the organization in Retrium and/or have been provisioned (if necessary) via your organization's IDP.